This is a sponsored post written by me on behalf of Cottonelle.
I'm really trying to simplify this Christmas. We are tightening our belts, both with money and with our most precious resource—time.
Time is what I really want more of. Time sitting on the couch with my husband listening to our favorite Christmas music. Time baking treats for my kids that they don't know I used a sugar substitute in. Time watching our favorite seasonal movies like Elf and Jingle All the Way.
So this Christmas I'm examining all our activities and separating out what I really want to do from what I think I should do. Christmas cards seem to overwhelm me every year, so this year I let my daughter design our photo card and I'll let her address them too. My burden is a treat for her.
I'm stepping back on expecting too much of myself or from scheduling in too many special events. This will leave more time and energy for the events we really enjoy. My husband loves planning out a driving route through town to see the extravagant light displays some people put up around their houses. All I have to do is get in the car and remember the cocoa.
One thing I will leave room for in the budget is for a tiny Christmas outfit for our newly adopted dog, Firefox. This little guy showed up on our deck in October. He was born to wear tiny hats and to own my heart.
So this Christmas, focus on the "Yes!" and see if what you get in the end is 25% more Joy.
One thing you won't have to worry about this holiday is getting caught short. All year round, Cottonelle has got you covered with 25 percent more sheets on a roll. In this case, more is better.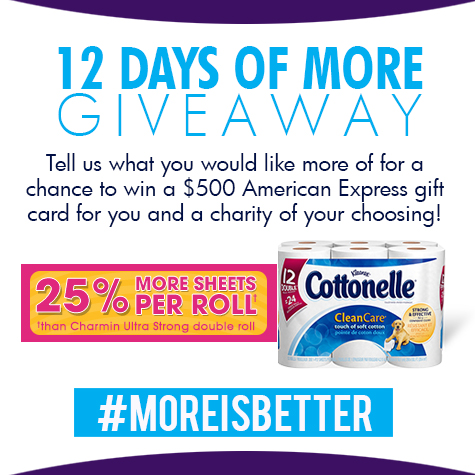 To spread more joy, I'm helping The SITS Girls and Cottonelle spread the word about their holiday giveaway.
The giveaway is open from now until Friday, December 20. One winner will be selected daily to receive a $500 American Express gift card for themselves and a charity of their choosing. Winners will be announced daily on the SITSGirls Facebook page: https://www.facebook.com/SITSGirls.
I hope you win! Good luck, and best wishes from me for a wonderful December!