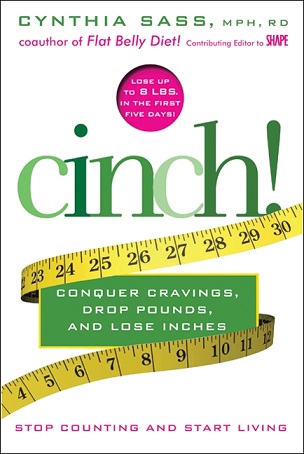 This week I've been reading through the new book Cinch! Conquer Cravings, Drop Pounds and Lose Inches by Cynthia Sass.
Let me tell you that at first I was skeptical. I do the diet thing about once a year and I've seen a lot of unhealthy or unreasonable diet fads. I was won over by this author.
First of all, I liked her credentials. Cynthia Sass earned her Master of Public Health degree and is a Registered Dietitian. This is important to me because I think there is a lot of weak nutritional science in many diet books.
I remember doing a "doctor recommended" diet that had me eating hot dogs and saltines. I was shaky and puffy on that one, although the severely limited calories did have me drop weight–for a little while.
I've impaired my thyroid on low-carb diets and killed off my gall bladder for good on a low-fat diet. Bad diets are a dime a dozen.
What I liked about Cinch!
No counting calories. What a misery that is. You can never just eat that way or walk into a restaurant and choose easily.
There are vegetarian and even vegan options. Not that I've ever seen a chubby vegan.
Chocolate is on the menu–every day. This alone makes me love her. It's like she knows me.
I can still have a serving of coffee each morning. This has helped me avoid my normal diet problem of caffeine withdrawal. Like I'm not cranky enough already on a diet! Now I can lose weight and not be deprived of my Starbucks. One addiction at a time, please.
Flavor is emphasized. Spices, vinegar, fresh herbs, garlic, peppers, and fresh citrus zest are a big part of the recipes. No reason to suffer with bland food, and the seasoning provide important nutritional benefits.
Whole and organic foods are emphasized. I can't game this diet by eating twenty one-point snack cakes in a day.
There is an optional five day "Fast Forward" induction that Sass claims can help you lose up to seven pounds. You do a solid-food detox composed of five nutritionally-dense foods.
During the Fast Forward induction, I didn't think I could be satisfied with four meals a day made up of a combination of spinach, almonds, yogurt, eggs and raspberries, but I've been surprisingly satiated. The only time I felt really hungry was the first day right before dinner. Aside from that I've felt good. I do feel tummy rumbling when it's time for the next meal, but not weak and shaky. Frankly I think it's healthy to feel a little hungry before a meal.
After the induction, Sass introduces a daily menu plan with plenty of food options. The book contains a hundred recipes, but really the basic components are easily adapted into a normal, everyday way of eating.
I think the most important chapter in the book deals with emotional eating. I think this is the real problem for most overweight and obese people. I certainly know how to eat healthfully, but my emotional eating keeps me in elastic-waist pants. I'd like to really dig in to this chapter and get to the root of my weight problem. I know I can diet, but can I eat healthfully for life?
For more information about Cinch! and its author, Cynthia Sass, check out this article on the CBS website with related video from the author's January 3rd appearance. Also, tune in to the Rachel Ray show tomorrow, Wednesday, January 5, to see Cynthia.
Overall, I was very pleased with this book and would give it a preliminary recommendation. I reserve my complete endorsement until after I complete the first thirty days. I have lost 4 pounds after two days.
Thanks for reading,

Disclaimer: I was provided with a promotional copy of this book. By blogging about the book I am entered into a giveaway. My integrity is important and everything I have written is my honest opinion. I am not required to give a positive review.